Fieldgold Foods is proud to present our recipes using our signature mustard flavours. Find other great recipes at http://www.saskmustard.ca/consumer/recipes/index.html
Salmon with Garlic Dill Mustard Sauce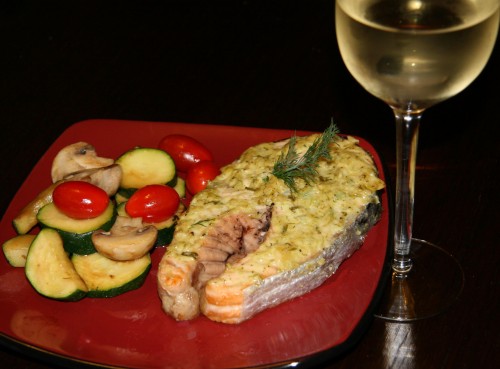 Preparation time: 5 minutes Cooking time: 15-20 minutes depending on thickness of Salmon steaks
Yield: 4 servings
INGREDIENTS: 1 tsp plus 3 tbsp olive oil or canola oil, Four 5-oz wild salmon steaks or fillets, 1 garlic clove, Juice of 1 lemon or 2 tbsp lemon juice, 2 green onions, ¼ tsp crushed red pepper flakes, ¼ tsp dried oregano, ¼ tsp salt, 3 tablespoons sliced almonds, 2 tsp Fieldgold Garlic Dill mustard, ¼ tsp pepper
1. Preheat the oven to 350 degrees F
2. Lightly oil an 8x11 inch baking dish with 1 tsp of oil
3. Rinse and pat the fillets dry and place the fish in a single layer in the dish
4. Mince the garlic
5. Juice the lemon
6. Chop the green onions
7. Combine ¼ tsp garlic, 2 tbsp lemon juice, the onion, red pepper flakes, oregano, salt, almonds, Fieldgold Garlic Dill mustard, pepper and 3 tbsp of oil in a blender. Puree the ingredients for 10 seconds. Scrape down the blender's sides with a spatula. Puree for 10 more seconds
8. Spread over the fish, dividing evenly.
9. Bake the fillets for about 15 minutes or until a fork inserted in the thickest part of the salmon flakes easily..
Pork Tenderloin with Wine Wholeseed Mustard Sauce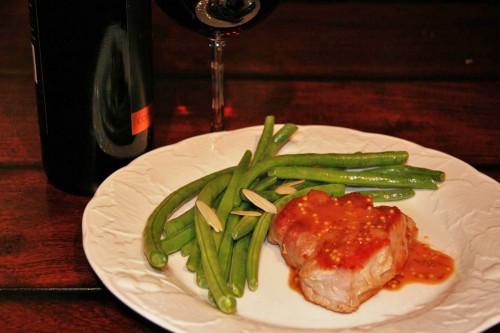 Ingredients: 1 medium onion, Four ½ inch thick boneless pork loin tenderloin chops, 1 tbsp vegetable oil, ½ cup dry white wine, 2 tsps Fieldgold Wine Wholeseed mustard
¾ cup beef stock
1 tsp unsalted butter
Preparation: Finely chop onion. Pat pork dry and season with salt and pepper. In a skillet heat oil over moderately high heat until hot but not smoking and sauté pork until just cooked through, about 4 minutes on each side. Transfer pork to a warm platter and keep warm, covered.
Pour off all but 2 tsp of fat from skillet and sauté onion, stirring, 15 seconds. Add wine and simmer until reduced by about half. Stir in mustard and stock and simmer sauce until slightly thickened, about 4 minutes. Just before serving, add butter to sauce, stirring until incorporated, and season with salt and pepper.
Serve pork with sauce.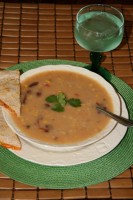 Preparation and cooking time: 1hr 10 min
Yield: 4 bowls
2 Tbsp oil from Sundried tomatoes packed in oil, 1/3 finely chopped fresh onion, 2 cloves minced garlic, ¼ c. sliced sundried tomatoes, 1 tsp.- 1 Tbsp chopped pickled halapeno pepper (soup will be spicy hot, you decide on degree), 2 ½ c. fresh or frozen whole kernel corn, 2 tsp. salt, ½ c. parboiled long grain rice, 6 c. water, 2 c. milk, 3 Tbsp cornstarch, 1 Tbsp lime juice, 2 tsp. Fieldgold Chili Garlic mustard, 1 Tbsp. mild salsa, fresh cilantro or confetti tortilla strips.
Saute onion in the oil from sundried tomatoes on low heat in a large soup saucepan, for 1 minute or until they start to soften
Add garlic, sundried tomatoes, halapeno peppers, corn, rice, salt and water
Simmer covered on medium burner for ¾ hr or until rice is well cooked
Blend 2 cups milk with the cornstarch and add, stirring constantly, to hot mixture
Heat gradually on a low burner until soup thickens, then remove from heat
Add mustard, lime juice and salsa
Serve in soup bowls with a garnish of cilantro leaf and confetti tortilla strips
Great with quesadillas, crusty buns or cornbread.
Bison Braised Steak Strip Wrap with a Swedish Twist
Preparation and cooking time: approx 4 hrs
Yield: approx. 8 wraps
1 kg. trimmed round bison steak, cut into 1/8 in thin strips, 1/3 finely chopped onion, 2 tbsp canola oil, 2 tbsp brown sugar, 3 tsp. paprika, ½ tsp coarsely ground black pepper, 1 tsp salt, 1 large clove minced garlic, 398 ml tomato sauce, 2 tbsp water, 1 tbsp olive oil, 3 tbsp red wine vinegar, 2 tbsp Fieldgold Swedish Mustard, 2 Tbsp cornstarch blended with ¼ c. cold water.
To serve: Place 3/4 c. of cooked steak mixture on a large flour tortilla. Add avocado strips, lettuce, green pepper or any fresh veggies of choice. Fold wrap and serve.
In a med-hot saucepan, brown meat strips in canola oil
When brown, transfer bison strips to a small Dutch oven or casserole dish
Add all other ingredients except cornstarch/water mixture, and stir to blend
Cook in a 225F oven for 3-4 hrs, or until meat is tender, stir 2-3 times while cooking
Remove from oven and add blended cornstarch and water mixture, stirring while adding
Assemble wrap and serve.