Small batches, authentic recipes, honost ingredients and family owned are the corner stones of Fieldgold Foods. Whole mustard seed is the 'gold' from the yellow flowered mustard fields of Saskatchewan.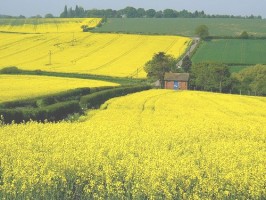 Grinding whole seed on site we add local ingredients whenever possible sourced from western Canadian farmers. No preservatives are added, and the major ingredients are added in their raw form, allowing a robust, grainy texture that challenges that of highly processed mustards on supermarket shelves. Fieldgold mustards are distinctive gourmet mustards that are surprising and delightful in their flavor.
Fieldgold recognizes and celebrates the efforts of Ray and Judy Nelson of Raginmund Mustard in developing and cultivating the mustard making craft. Their passion for mustard has brought us 12 painstakingly developed recipes that focus on freshness, lack of preservatives, and outstanding flavour. Having created and adapted these recipes over a ten year period, they have perfected the qualities of flavour and texture. We are proud to be the new owners of this original business and like to assure Ray and Judy's former customers that the traditions that they maintained in their recipes and processes will remain intact under our watch.
The cornerstone of Fieldgold mustard recipes is HEAT! When it comes to heat look no further, our Horseradish, Hot English, Chipotle Red Pepper and Chili Garlic deliver the heat punch that many mustard connoisseurs crave! For more delicate palates, there are a variety of other flavors to choose from that don't set your mouth on fire! Check the small thermometer beside each mustard variety description to be sure that you are buying the hotness that suits you best.
Rest assured that quality control and food safety are a priority at Fieldgold. All products are made in our inspected Rossland, BC based kitchen using CFIA approved processes.
We welcome you to explore all of our twelve flavours and to give us your feedback. Contact us if you have any questions or concerns.